Modupeola Adebayo, DNP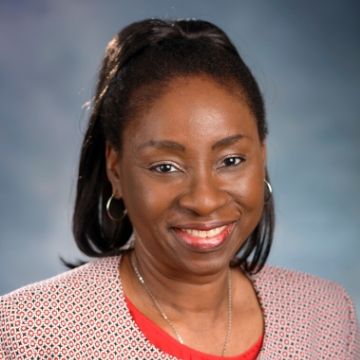 ACADEMIC AREAS OF INTEREST
Informatics, practice improvement with technology, nursing education
PERSONAL AREAS OF INTEREST
Reading, traveling, meeting people
BIOGRAPHY
Modupeola (Ola) Adebayo, DNP, RN specializes in Informatics with over fifteen years of healthcare and information system experience. As a skilled critical care nurse and an analyst with proficiency in the design, testing, training, implementation, and support of Health Electronic Record (HER) applications, her practice goal is to use technology to deliver safe and cost-effective care. As a faculty, she aims to promote technology usage in clinical education to prepare students for practice. A recommendation from her DNP project was implemented at the project site (a public, academic health care institution) as part of a Lean Sigma design to minimize waste while also maintaining patient safety.
EDUCATION
DNP, RN, Georgia State University (Atlanta, GA), 2017
MSN, Walden University (Minneapolis, Minnesota), 2010
BSN, Georgia State University (Atlanta, Georgia), 2006
BBA - major in Insurance, University of Lagos, Nigeria (1990)
SELECTED PUBLICATIONS
Adebayo, M., Geller, R., Hires, K., & Killian, S. (2018).Strategies for improving the documentation of medication overrides. Journal of Informatics Nursing, 3(3), 22-26.
CERTIFICATIONS
Epic Certifications : Procedure Orders, Clinical Documentation, Radiant and Beaker Clinical application
American Heart Association Certified: ACLS and BLS
AWARDS
Lean Practitioner Award - Grady Health System, Department of Operational Excellence (2018).
First place poster presentation award - Research Symposium/STII Consortium at Clayton State University, Atlanta. Georgia (May, 2016)
ORGANIZATIONS
American Nursing Informatics Association (ANIA)
American Nurses Association (Georgia Chapter)
Sigma Theta International, Honor Society of Nursing
SELECTED PRESENTATIONS
Adebayo, M, "Strategies for improving the documentation of medication overrides." Georgia Nursing Leadership Coalition Symposium (Atlanta, GA), November 2016
Adebayo, M, "Strategies for improving the documentation of medication overrides." Evidence-Based Practice Nursing Research Conference (WellStar Health System, Atlanta, GA), September 2017
Adebayo, M, "Strategies for improving the documentation of medication overrides." Poster Presentation at ANIA Annual Conference (Orlando, FL), May 2018
Marcus, J., Cranwell-Bruce, L & Adebayo, M., "Evaluating nursing students' perceptions of using quick response codes to enhance learning during nursing health assessment." Poster Presentation at the Southern Regional Education Board Annual Conference (Atlanta, GA), November, 2018