Marc Nieson, MFA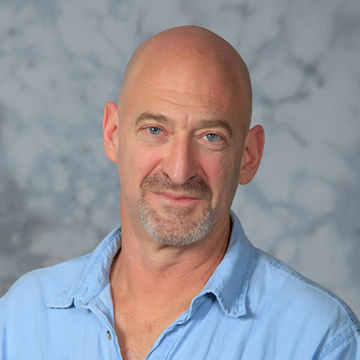 412-441-3273
Lindsay - 3rd floor
Hometown:  Brooklyn, NY
Joined Chatham:  2004
ACADEMIC AREAS OF INTEREST
Fiction, CNF, Screenwriting
Personal Website: Visit Website  
BIOGRAPHY
Dr. DeLong joined the faculty of the Department of Business and Entrepreneurship at Chatham University in 2006. She teaches a variety of marketing courses at the undergraduate and graduate levels. Prior to Chatham, Dr. DeLong was a Clinical Professor of Marketing in the A.B Freeman School of Business at Tulane University in New Orleans, LA. Prior ot Tulane, Dr. DeLong worked as a marketing research and business analytics professional in a number of organizations including Entergy Corporation (electric and gas utility), Bozell Worldwide (advertising and public relations agency), and Goodman Consulting (custom research and business consulting services). Dr. DeLong is an active member of the Pittsburgh chapter of the American Marketing Association, as well as the faculty advisor of Chatham's Marketing Club. Dr. DeLong's primary research interest is corporate social responsibility, specifically sustainable business practices and green marketing and branding strategy. Secondary interests include global aspects of information literacy pedagogy.
EDUCATION
MFA University of Iowa Writers' Workshop, 1994
BFA New York University — Institute of Film and Television, 1985.
AS SUNY at Farmingdale — Business Administration, 1980
AWARDS 
2018/2017/2015 Chatham Research & Sabbaticals Committee Awards
2014 Press 53 Award for Short Fiction Collection — Finalist
2013 Notable Essay in Best American Essays 2012
2013 Katherine Anne Porter Prize for Fiction — Semi-Finalist
2012 Literal Latte Fiction Award — 1st Place Winner
2011 Pushcart Prize Nominee (nonfiction)
2011 Wordstock Ten 2011 Short Fiction Contest — Runner Up
2010 Chautauqua 2010 Nonfiction Contest, Runner up
2008• Pushcart Prize & Million Writers Award Nominee
2008• Grand Prize, Raymond Carver Short Story Award
2006• Anderson Center for Interdisciplinary Arts — Writing Residency
2004• Blacklock Nature Sanctuary — Writing Residency
2003• University of Minnesota — Outstanding Teacher Award - English Department
2003 • Willard R. Espy Literary Foundation — Writing Residency
2002• Minnesota State Arts Board Artist Fellowship
2002 • Centrum — Writing Residency
2001• Blacklock Nature Sanctuary — Writing Residency
2000• SASE/Jerome Fellowship
1999• McKnight Artist Fellowship in Creative Prose
1999 • Loft Faculty Award — Anderson Center for Interdisciplinary Arts, Writing Residency
1998• Jerome Foundation Literature Travel and Study Grant (Mexico, Belize, Costa Rica)
1998• Minnesota State Arts Board Artist Fellowship
1995• MUCIA Travel Grant (Haiti, guest speaker at Colloque International sur La Littérature)
1993• University of Iowa — Teaching Assistantship in English Literature
ORGANIZATIONS
ACHIEVEMENTS
PUBLICATIONS
2017 DOUBLE KISS: Anthology "Sinking the Eight" (sh. story) Mammoth Press, Print.
2017 Grist Anthology-10 Year Anniversary, "Any Object at All" (novel excerpt), Print.
2016 Brevity "Finish Work" (craft essay), Digital.
2014 EVERYWHERE STORIES: Press 53 Anthology (Fall) "The Ring" (short story) Print.
2013 Folio (Spring) "An American Winter" (travel essay)
2012 Literal Latte (Summer) "Sinking the Eight" (short story)
2012 Hawk & Handsaw (Spring) "Vespers" (short story)
2011 Stripped (Anthology) "Emergency" (flash fiction)
2011 Wordstock Ten (Anthology) "The Ring" (short story)
2011 Conjunctions (Spring) "The Fortune of Cities" (short story)
2011 Chautauqua (Spring) "Lessons in Anatomy" (memoir excerpt)
2011 Green Mountain Review (Spring) "In the Basement" (memoir excerpt)
2007 • THE SPEED OF LIFE (Feature Film), Co-Writer. (Premiere/Spec Jury Prize: Venice Int'l Film Fest)
2000 • Great River Review (Spr/Sum) "A Place to Lie Down" (short story)
2000 • A View from the Loft (Feb.) "On Process and Progress" (essay)
1999 • A Loose Net of Words: Anthology "Borderlines" (novel excerpt)
1999 • The Literary Review (Spr.) "What I Did on My Summer Vacation" (memoir)
1998 • A View from the Loft "On Metaphor and Luggage" (essay)
1997 • American Way (Sept.) "The Perfect Shell" (short story)
 PRESENTATIONS
2015 — AWP, Mpls MN, "Teaching in Prisons/Prisons in Teaching"
2014 — Writers Connect Conference, Pgh, PA "Place as Character in Novels and Short Stories"
2014 — Education Justice Project Symposium, Univ. Illinois "Writing in Prisons, Prisons in Writing"
2014 — Educational Justice/Appalachian Prisons Symposium, Univ.W.Va "Words Without Walls Panel"
2013 — Hands On Literary Festival, New Orleans, LA, "Writing the Mask: Gendered Personas"
2011 — AWP, Wash DC, "Collaboration: Love it or Leave it"
2011 — Iowa Summer Writing Festival, IA, "In the 'I' of the Storm"
2010 — Iowa Summer Writing Festival, IA, "The Writing Lobby: Politics, Prose, & Poetry"
2008 — AWP NYC, "Memoir and Tightrope of True-ish-isms"
2006 — 412 Creative Nonfiction Conf., Pgh, PA, "Publishing in Literary Magazines"
2005 — Chatham Univ. "Translating Across Borders : Indian Dialogues"
2003 — Hamline University, MN "On Memory and Memoir"
1997 — Minnesota Museum of American Art, StPaul "Language and Landscape"
1996 — The Loft, MN, "Publishing: From the Other Side of the Desk"
1995 — Colloque International sur La Littérature, Port-au-Prince, HAITI, "On Creative Nonfiction"
1994 — Univ. of Iowa, IA, "Writing Within & Without Gender"