Women Business Leaders Breakfast Series
Donna M. Baxter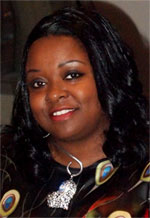 Donna M. Baxter is the CEO of Soul Pitt Media, an African American internet marketing and graphic design firm based in Pittsburgh, PA. Founded in 2000, this award-winning company helps individuals, businesses and corporations reach African American consumers through online advertising, print and radio with clients including numerous small business owners, along with the August Wilson Center, Allstate Insurance, McDonald's, Highmark, Verizon Wireless, the US Army and many others.
Soul Pitt Media helps people connect with the Minority community through TheSoulPitt.com, Pittsburgh's premier Minority community award winning web site, which receives over 450,000 page views per month and Soul Pitt Quarterly, a community magazine which is a spin-off of the website, in which 10,000 complimentary copies are distributed around Pittsburgh each quarter. Donna also co-hosts the Soul Pitt Xtra community radio show, along with Terina Hicks which airs on WGBN AM 1150.
Donna serves as a speaker and digital consultant and is on a mission to educate Minority and women business owners on the power of the Internet. She has spoken to audiences about technology at various events including the Women's Economic Development Outreach Tour (WEDO), Seton Hill's Annual E-Magnify Conference, the 2008 PA Governor's Conference and Duquesne University's Annual Entrepreneur's Growth Conference to name a few. Former rap artist turned internet Tech Diva, Donna Baxter has gone from "Rhymer to Digital Designer". This "Cool Nerd" explains technology in ways you've never heard all while making it easy to understand, funny, and entertaining and leaving audiences motivated to "Get Online or Get Left Behind!"
Named "Rookie of the Year" by The National Association of Women Business Owners in 2006, Donna has since been recognized and featured in numerous newspapers, magazines, radio and television shows and has also won many business and community awards. Pittsburgh Magazine named her one of the "40 Under 40" young leaders for 2006 and featured her in their Spotlight on Women in Business in April 2010.
Donna is also the co-founder of 2 Tech Divas, who work with entrepreneurs to teach them how to dramatically improve productivity or market presence using technology. Through digital coaching, seminars and Laptop Workshops™, they have been helping entrepreneurs with their services resulting in some of their clients earning online income in excess of $20,000 per month.
Originally from Johnstown, PA, Donna holds a Bachelor of Arts degree in Communications / Media from the University of Pittsburgh and a Master's degree in Education and Instructional Technology from AIU. She is the author of the forthcoming book "Dr. King Would've Had a Dream and a Blog: and 26 Other Reasons to Get Online or Get Left Behind!" Find out more about Donna on her personal site at www.donnambaxter.com