Women Business Leaders Breakfast Series
Dr. Susan Catalano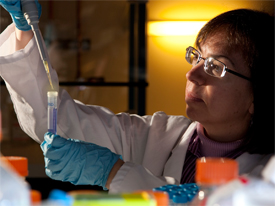 Dr. Catalano has extensive experience in the field of Alzheimer's disease drug discovery. She served as Director of Discovery Biology for South San Francisco-based startup Acumen Pharmaceuticals, Inc., where she led a scientific team to the development of novel, first-in-class assay systems responsible for the discovery of the company's first small molecule lead candidates targeting oligomers. Dr. Catalano has over 14 years of experience as a cell biologist in the fields of neuroscience and oncology, and nine years of experience in the drug discovery industry.
Dr. Catalano received her Ph.D. from U.C. Irvine and postdoctoral training at U.C. Berkeley and Caltech in the field of neurobiology. While a scientist at Roche Palo Alto, she held leadership positions in the Neurophysiology and Neuroimaging groups and led exploratory programs against targets involved in anxiety, depression and schizophrenia. Following this, Dr. Catalano joined Rigel Pharmaceuticals, Inc. as a Senior Scientist and pioneered the use of high content phenotypic screening technology to discover R763, an Aurora kinase inhibitor that recently began its third PhI clinical trial.
Dr. Catalano founded Cognition Therapeutics in 2007, and re-located the company to Pittsburgh from California to take advantage of the world-class neuroscience research, highly educated workforce and synergies with local companies that the city offers.