Women Business Leaders Breakfast Series
Helen Collins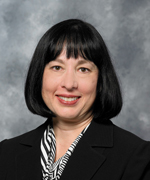 As Vice President and Senior Relationship Manager, Helen Collins serves as the primary contact for the delivery of all wealth management services for her clients. She establishes a business plan for each client and works with the wealth management team to achieve service standards. Collins also delivers an overall client review that addresses both investment funds' performance and administrative processes. She has planned and frequent interaction with clients, which are expected to yield increased client satisfaction, strengthened client commitment, enhanced retention and additional revenues.
Helen Collins joined PNC in 2000 as a senior trust advisor. Prior to joining PNC Helen assisted high net worth individuals and families in meeting their tax, estate, and financial planning goals. She brings over 18 years of experience in all facets of personal and charitable trust administration.
Helen Collins holds a Bachelor of Arts degree in Speech from the University of Pittsburgh and is a summa cum laude graduate of Duquesne University School of Law. She has been published in Law Review and was a Patent Moot Court winner.
In addition, she is a member of the Board of Directors of Altrusa International of Pittsburgh and Stage Right Community Theater.