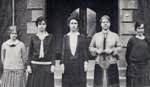 Mary Skinker, Carson's teacher and mentor pictured with Sophomore Class Officers.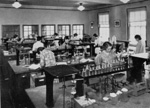 A photograph of the Chemistry Lab in Louise C. Buhl Hall of Science taken around the time of Rachel Carson's time at the College.
Rachel Carson and the Honorary Hockey Team in a 1928 yearbook photograph.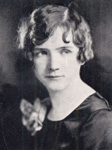 Rachel Carson's 1928
yearbook portrait.
Rachel Carson was a member of the Omega Club, a literary club on campus.
Other Available Resources
Below are links to a variety of online resources with more information about Rachel Carson.
Research Collections
Rachel Carson Papers, Beincke Rare Book and Manuscript Library, Yale University
The collection contains manuscripts, notebooks, letters, newspaper clippings, photos, and printed material relating to the life and career of Rachel Carson. The Library's Digital Collections contains digital versions of the collection including photographs, drawings, and correspondence.
Lear-Carson Collection, Connecticut College
The Lear/Carson Collection contains the manuscripts Linda Lear collected in the course of researching and writing the biography, Rachel Carson: Witness for Nature and the manuscripts used for her anthology of Carson's writings, Lost Woods: The Discovered Writing of Rachel Carson.
Dorothy Freeman Collection, Bates College Special Collections
Collection includes some 750 letters between Dorothy Freeman and Rachel Carson. The Collection is the primary source for the book Always Rachel: The Letters of Rachel Carson and Dorthy Freeman, 1952 - 1964
Philip Sterling Papers, University of Oregon
Contains the the manuscript of Sea and Earth: The Life of Rachel Carson, Carson family background material, interviews with friends and relatives of Rachel Carson, photographs of Carson, newspaper clippings, and research notes.
Organizations and Institutions
Rachel Carson Institute
Founded in 1989, this institute at Chatham University promotes awarenes and understanding of environmental issues through educational programs, conferences, lecture series, and seminars.
RachelCarson.org
The website, devoted to the life and legacy of Rachel Carson is an excellent source for information including a biography, lists of publications, and links to resources.
Rachel Carson Homestead
The birthplace and childhood home of ecologist Rachel Carson preserves and restores this historic site and offers education programs which advance Rachel Carson's environmental ethic.
Rachel Carson Council, Inc.
A clearinghouse and library with information on pesticide-related issues, Rachel Carson Council provides answers to the public, produces various publications clarifying pesticide dangers, brings alternative pest controls to the public's attention, and presents conferences and workshops for the public and the scientific community.
Biographies and Articles
Time Magaine's 100 Most Important People of the Century
An article written by Peter Matthiessen from this special issue of the magazine, includes a brief recording of Rachel Carson speaking and links to other resources.
Rachel Carson and the Awakening of Environmental Consciousness
Essay by Linda Lear, author of Rachel Carson: Witness for Nature written for the series "Wilderness and American Identity" on the National Humanitites Center website.
Environmental Protection Agency - Rachel Carson
An article by Frank Graham, Jr. published in the EPA Journal.
Rachel Carson Dies of Cancer; 'Silent Spring' Author Was 56
Rachel Carson's obituary from The New York Times.
Brief Biographies
Here is a list of sites with short biographies on Rachel Carson:
National Women's Hall of Fame
Chemical Heritage Foundation
Encyclopedia Britannica Online
Ecology Hall of Fame
Pennsylvania's Department of Environmental Protection
PBS: A Science Odyssey
Silent Spring
Rachel Carson and Silent Spring
An essay from the Online Ethics Center for Engineering and Science about the publication and effects of Silent Spring.
The Story of Silent Spring
Article from the National Resources Defense Fund website.
Silent Spring Revisited
Dorothy McLaughlin's essay for PBS's Frontline website.
How Rachel Carson Helped Saved the Brown Pelican
Michael Lipske's article from National Wildlife magazine discusses Silent Spring's effect on the environment.
This project is supported by a grant from the Pennsylvania Historical and Museum Commission and the John W. Cummins Endowment for the Chatham University Archives