Christine Todd Whitman
Elsie Hillman Chair in Women and Politics
2011 Recipient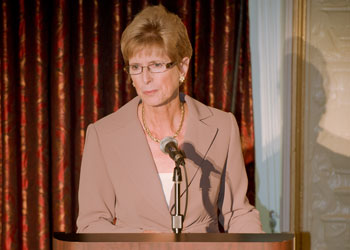 Christine Todd Whitman is the President of The Whitman Strategy Group (WSG), a consulting firm that specializes in energy and environmental issues. Prior to her work at the WSG, Governor Whitman served in the cabinet of President George W. Bush as Administrator of the Environmental Protection Agency from January of 2001 until June of 2003. She was the 50th Governor of the State of New Jersey, serving as its first woman governor from 1994 until 2001.
As Governor, Christie Whitman earned praise from both Republicans and Democrats for her commitment to preserve a record amount of New Jersey land as permanent green space. As EPA Administrator, she promoted common-sense environmental improvements such as watershed-based water protection policies.
She is also co-chair of the Republican Leadership Council (RLC), which is focused on supporting fiscally conservative, socially tolerant candidates and to reclaim the word Republican. She is the author of a New York Times best seller called "It's My Party Too", which was published in January of 2005 and released in paperback in March 2006.
Governor Whitman serves on a number of non-profit organizations including the Board of Trustees' Executive Committee of the Eisenhower Fellowships and the Board of Directors of the Council on Foreign Relations.
Governor Whitman holds a BA from Wheaton College in Norton, MA, and is married to John R. Whitman. They have two children and three grandchildren.