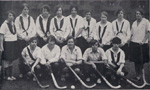 Rachel Carson and the Championship Hockey Team in a 1928 yearbook photograph.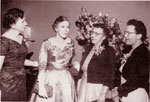 Rachel Carson was honored in 1956 with a Distinguished Science Award for her work in science through literature.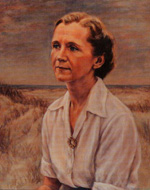 A portrait of Rachel Carson painted by Minnette D. Bickel in honor of the 25th anniversary of the publication of Silent Spring.
Rachel Carson (1907 - 1964)
"As a child I always assumed I would be a writer. I never took biology until I was a sophomore in college. I liked it so much it brought about a critical decision: science or writing? It didn't occur to me to combine the two. Eventually it dawned on me that by becoming a biologist I would be giving myself something to write about."
Rachel Carson, Life Magazine, October 19, 1962
Rachel Carson, one of the world's most influential nature writers, graduated from the Pennsylvania College for Women (now Chatham College) with a degree in science in 1929. Silent Spring, her most famous book, led to the banning of DDT, the creation of the Environmental Protection Agency, as well as the groundswell of public opinion and mobilization that led to the modern day environmental movement.
Through a grant from the Pennsylvania Historical and Museum Commission, the Jennie King Library has organized a collection of Rachel Carson and the Rachel Carson Institute materials. This site contains information about this collection as well as links to other sources of information.
The Collection section of this site provides a finding aid describing the materials in the Rachel Carson Collection. The Collection includes short stories, essays, and newspaper articles written by Rachel Carson during her studies at the Pennsylvania College for Women, as well as biographical, bibliographic, and organizational secondary sources.
Browse the Rachel Carson Digital Library for photographs and select documents digitized from the Rachel Carson Collection.
A list of books written by and about Rachel Carson. Links to book reviews and chapters of books when these are available.
A guide to Rachel Carson resources online including links to other research collections holding Rachel Carson's papers and related materials, organizations, biographies, and articles.
Please contact the library if you have any questions or concerns.
This project is supported by a grant from the Pennsylvania Historical and Museum Commission and the John W. Cummins Endowment for the Chatham University Archives