Welcome from the Executive Director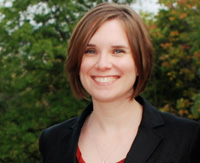 Hello and welcome to the new website of the Pennsylvania Center for Women and Politics (PCWP). My name is Dana Brown and I am the Executive Director of the PCWP at Chatham University. We are thrilled to be launching our new website that offers you research and data on women in PA politics; information on our signature programs such as: Ready to Run™ Campaign School, NEW Leadership™, the Elsie Hillman Chair in Women & Politics; as well as information on our upcoming programs and highlights from our most recent events.
At the PCWP we believe that the women of Pennsylvania have important insights on politics and policy. However, right now women are largely under-represented across the state and local governments. Therefore, women's voices and experiences may not always be found and reflected in public policy. We believe that Pennsylvania can do better, but politics will not change on its own. The PCWP through its programs and research aims to educate and arm women in Pennsylvania with knowledge, so when an opportunity presents itself she will be willing and able to capitalize on that opportunity.
Dana Brown
Executive Director
Pennsylvania Center for Women & Politics