Have questions? We make it easy to get in touch:
Call Us
800-837-1290
Text Us
412-419-3772 (standard text/SMS rates will apply)
Chat with Us
Email Us
Request Information
Or, answer a few questions and we will be glad to help.
Loading...
Emerging Black Writers-in-Residence Program
The Emerging Black Writers-in-Residence program aims to support and feature the art and teaching of young Black writers. Throughout this residency, each writer-in-residence will teach a semester-long multi-genre workshop to Chatham MFACW students. They will also deliver a public craft lecture, a public reading of their work, and enter into professional mentorship relationships with Chatham faculty. 
The inaugural writers in residence are both MFACW alumni: Caitlyn Hunter will be teaching in the spring 2021 semester, while Cedric Rudolph will be teaching in the fall 2021 semester. Both writers-in-residence will be involved with the 2021 Summer Community of Writers residency.
This program launches in tandem with the Boosie Bolden Chapbook Series, a limited-edition chapbook produced by The Fourth River with a press run of 100 copies in memory of Jeffrey "Boosie" Bolden, who served as an editor for The Fourth River during his time in the MFACW program.
---
Caitlyn Hunter
Caitlyn Hunter is an MFA alumna in Creative Nonfiction from Chatham University. She has been an assistant editorial intern at Creative Nonfiction Magazine, a Hot Metal Bridge post-baccalaureate fellow at the University of Pittsburgh English Department, a professor of English at the Community College of Allegheny County for the past six years and is currently working on her doctorate of English at Duquesne University. She is currently a contributor to the Pittsburgh Current and gives public lectures on Black identity, Black cultural representation, and critical race theory both in Pittsburgh and internationally.
---
Cedric Rudolph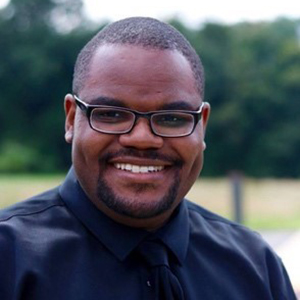 Cedric Rudolph first moved to Pittsburgh in 2016 to pursue teaching incarcerated populations under a Words Without Walls fellowship from Chatham University. For two years, he taught at Allegheny County Jail and the now-defunct SCI Pittsburgh. In 2018, he graduated from Chatham with an MFA in Poetry and in Pedagogy. He is currently in his third year of teaching fiction and poetry to middle and high school writers at the Pittsburgh Creative and Performing Arts school (CAPA). In addition, he is one of the founding editors for Beautiful Cadaver, which publishes social justice-themed anthologies and stages theatrical performances. Beautiful Cadaver will be able to expand its local efforts thanks to a grant from the Three Rivers Community Foundation. In fulfillment of the grant, Cedric will teach writing to youth in 2020 and 2021. His poems are published in Christianity and Literature Journal, The Laurel Review, and the Santa Fe Literary Review. He has publications forthcoming in the Coal Hill Review and The Pittsburgh Neighborhood Guidebook.
 Photo credit: Samantha Edwards