Leadership Team
The President's Leadership Team (PLT) is a shared, decision-making team that supports and furthers Chatham's mission and values, establishes strategy and goals, and drives execution of initiatives within divisions and across the University. All members of the PLT report directly to the president.
Amy Becher, Vice President for Enrollment Management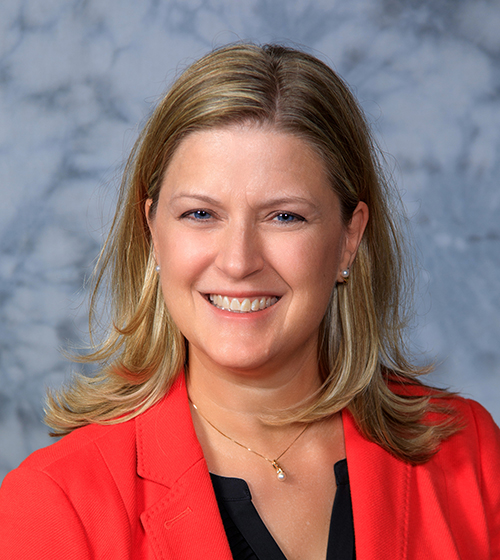 Amy Becher has been Vice President for Enrollment Management at Chatham since October 2013. She brings over twenty-five years of experience building enrollment in varying types of schools ranging from The Hartt School of Music, Dance and Theatre at the University of Hartford, West Hartford CT to the graduate focused Ford School of Public Policy at the University of Michigan, Ann Arbor. Ms. Becher has the distinct experience of leading the Enrollment Management efforts at Chatham during the successful transition to coed. With expertise in financial aid leveraging and integrative enrollment management, Becher has worked to expand Chatham's geographic reputation and enrollment growth while managing discount rate in a competitive Western Pennsylvania market. Ms. Becher received her MS in Organizational Leadership from Concordia University - Ann Arbor, MI and has a BS in Music Therapy from the University of Minnesota, Minneapolis, MN.
---
Bill Campbell, Vice President of Marketing & Communications/Chief
Experience Officer


Bill Campbell is the Vice President of Marketing and Communications/Chief Experience Officer at Chatham University. He provides strategic leadership and oversees all aspects of branding, marketing, public relations, and communications activities for the University, along with oversight of the Information Technology department and a multi-year, cross-campus effort to improve the student and employee service experience. Joining Chatham in 2012, Campbell helped lead the successful coed transition of Chatham's 145-year-old undergraduate women's college and served as the Vice President of Enrollment Management until 2013. In 2015, he was honored with the national American Marketing Association's Higher Education Marketer of the Year (Innovator Award) for his efforts. Prior to Chatham, he worked for more than a decade at Clean Design, a brand and marketing agency located in North Carolina, in a variety of positions, culminating in his role as the vice president of brand strategy. He began his career in the nonprofit sector as the director of annual giving and operations for the V Foundation for Cancer Research. He holds a B.A. from the University of Illinois and a MBA from Western Governors University (WGU).  
---
Kristin Dukes, Chief Diversity Officer/Vice President for Diversity, Equity, & Inclusion


Dr. Kristin Dukes is the Chief Diversity Officer (CDO) and Vice President for Diversity, Equity, and Inclusion. Dr. Dukes has more than fifteen years of experience in institutional diversity in higher education, including recruitment and retention, curriculum design, delivering diversity and inclusion competency workshops, and serving as a consultant to various college offices. Dr. Dukes joined Chatham in May 2022 and leads stakeholders across the University in advancing an environment that is welcoming, inclusive, diverse, and mutually respectful for all students, faculty, staff, and alumni. Prior to joining Chatham, Dr. Dukes served as the Dean for Institutional Diversity at Allegheny College. Prior to assuming the senior diversity officer role at Allegheny, Dr. Dukes was an Associate Professor of Psychology at Simmons University. Dr. Dukes earned her master's and doctoral degrees in social psychology from Tufts University. She also holds a bachelor's degree in psychology from Rice University.
---
Lisa Lambert, Interim Chief Academic Officer


Dr. Lisa Lambert was appointed interim Chief Academic Officer at Chatham University in 2023. After joining Chatham in 1985 as a faculty member in Biology, she was promoted to Professor of Biology in 2012. While at Chatham, Dr. Lambert has served as Chair of the Science Department, founding Program Director for MS Biology, Associate Dean for Academic Affairs, and Assistant Vice President of Undergraduate Learning. She has done sabbaticals at the University of Pittsburgh, Duke University, and Harvard University School of Public Health while pursuing her research interests in the genetics of iron metabolism. Dr. Lambert earned a Bachelor of Science degree in Biology from Furman University, where she was inducted into Phi Beta Kappa, and a Ph.D. in Genetics from Indiana University-Bloomington.
---
Chris Purcell, Vice President of Student Affairs and Dean of Students

Dr. Purcell joined Chatham University in January 2021 as Assistant Dean of Students before being promoted to Vice President of Student Affairs and Dean of Students in Fall 2021. In this role, he oversees Chatham's co-curricular and student success initiatives, including the Offices of Student Engagement, Residence Life, Counseling Services, and Health Services. Prior to coming to Chatham, he served as Director of Lesbian, Gay, Bisexual, Transgender, Queer & Intersex Life at Vanderbilt University (2013-2020) and Associate Director of Student Activities at Berklee College of Music (2010-2013). He began his career in the LGBTQ+ Centers of Duke University and the University of Vermont. He has published and presented nationally on LGBTQ+ inclusion in higher education, student activism, and developing success networks that help all students succeed. He holds a B.A. from Western New England University, an M.Ed. from the University of Vermont, and Doctorate in Education from Vanderbilt University.  
---
Leonard Trevino, Vice President of Intercollegiate Athletics and Recreation 

Leonard Trevino joined Chatham University in August of 2015 as the Director of Athletics and Recreation. During his tenure at Chatham, he has the guided the department as they increased the number of athletic teams from 9 to 21 and overall student-athlete enrollment from 87 to approximately 400 student athletes. Athletic and academic success has been seen across all programs and been highlighted by three team conference championships, two NCAA appearances and several individual champions and national academic recognition for several teams each of the past seven years. He has overseen facility upgrades such as the construction of Graham Field to accommodate football, lacrosse and soccer, the renovation of the athletic and fitness strength and conditioning area and the acquisition of facilities for baseball, softball and both men's and women's ice hockey. He also serves as the co-chair of Chatham's Diversity & Inclusion Council. Prior to coming to Chatham, he served as Associate Athletic Director and Head Men's Basketball Coach at Goucher College in Baltimore, MD. At Goucher College he led the program to 4 conference titles and NCAA performances and over a ten-year period his teams were ranked in the top 20 in the country each year. Trevino currently serves on the NCAA Championship Committee for all sports and just recently completed a 4-year term on the NCAA Championship Basketball Committee. Trevino served as an assistant basketball coach and instructor at both University of South Dakota and Texas A&M. He holds a B.S. in education from Texas Tech University and Masters in Sports Psychology from the University of South Dakota.