Marilu Piotrowski, Ph.D., MSN, RN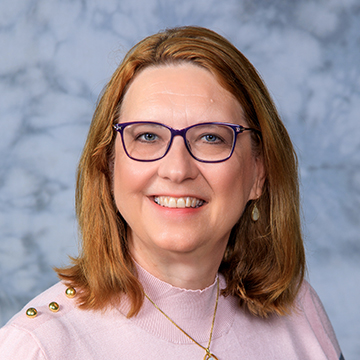 Assistant Professor of Nursing
412-365-1302
Eastside - 263
Hometown:  Aliquippa, PA
ACADEMIC AREAS OF INTEREST
Nursing education. Leadership development. Resilience. Self-directed and autonomous learning as 21st century skills, and sustainability through lifelong learning.
PERSONAL AREAS OF INTEREST
Spending time with family, pets, and travel. Working on crafts, gardening, and home improvement.
BIOGRAPHY
Dr. Piotrowski has over thirty years of experience as a registered nurse, faculty member, and administrative director for a school of nursing within an integrated healthcare system. Her work has been devoted to fostering healthcare worker and mid-level leader development for optimal patient outcomes. She has designed and taught a variety of teaching/learning strategies in Medical Surgical, Fundamentals, and Leadership courses with clinical application in acute-care, long-term, and community settings.
EDUCATION
Ph.D., Robert Morris University
MSN, Duquesne University
BSN, Duquesne University
AWARDS 
Robert Morris University Research Award, Dean's Fund, 2016
University of Pittsburgh MBA Essentials Team Award, best business performance, 2007
Sigma Theta Tau Award of Excellence, 1992
Duquesne University Epsilon Phi Chapter Sigma Theta Tau Research Award, 1991
ORGANIZATIONS
International Society for Self-Directed Learning
Sigma Theta Tau International Honor Society
National League of Nursing
Duquesne University Alumni Association
Robert Morris University Alumni Association
ACHIEVEMENTS
External Reviewer for first PhD in Nursing candidate at the University of West Indies, Mona, 2020.
External Expert and member, University of Pittsburgh Medical Center St. Margaret's Hospital Evidence-Based Practice/Research Council.
Advisory Board member, Parkway West CTC, Health Occupations Technology Program.
Black Belt in Lean Six Sigma, Heritage Valley Health System, 2007.
SELECTED PUBLICATIONS
Piotrowski, M. (2020). Relationship of self-directed learning and resilience in healthcare middle managers.  International Journal of Self-Directed Learning, 17(1), 19-38.
Piotrowski, M. (2015). Chapter 7 "Course Preparation" (pp. 46-51) and Chapter 22 "Legal Considerations for New Faculty" (pp. 142-149) in Teaching in Higher Education:  Becoming College Faculty.  PA: RMU University Press.
SELECTED PRESENTATIONS
Piotrowski, M. (2020).  Sparking Timely Communication for Learning Innovation in Online Doctoral Nursing Students.  Podium presentation, OLC Accelerate 2020 conference in Orlando, FL  November 16, 2020.
Piotrowski, M. (2020). Application of EBP as a healthcare professional: Importance of inquiry and collaboration for best practice.   Pennsylvania State University, University Park, Remote Area Medical (RAM) pre-med organization.  Invited Guest Presentation (via Zoom) September 14, 2020.
Piotrowski, M. (2020). Hello! Engaging Autonomous Learners in Online DNP Program Courses (March 27, 2020). Podium presentation. Sigma/NLN's  Nursing Education Research Conference, Washington, DC https://issuu.com/stti/docs/nerc_2020_program (Conference canceled due to the COVID-19 outbreak)
Piotrowski, M. (2020). Professional Career Transitions:  Importance of Self-Directed Learning.  Podium presentation, at International Self-directed Learning Symposium (ISSDL), Cocoa Beach, FL February 7, 2020.
Piotrowski, M. (2019). Getting Started with Quality Improvement Projects:  Reflections and Tips.  Podium presentation, Hot Topics in Nursing Conference.  UPMC St. Margaret's, Pittsburgh, PA. December 2, 2019.
Piotrowski, M. & Robb, M. (2019). Resilience and Autonomous Learning:  Potential Opportunities for Development in Current and Future Health Leaders.  Podium presentation, UPMC St. Margaret's 14th Annual Clinical Research Forum.  Nursing Excellence:  Innovation through Research and Evidence-Based Practice.  Pittsburgh, PA  (May 24, 2019).
Invited presentation from Sewickley Historical Society for Nurse's Day. Historical reflections on Sewickley School of Nursing.  Sweetwater Building, Sewickley, PA.   May 6, 2019 (afternoon and evening presentations)
Invited presentation by Portage Learning at Geneva College, Beaver Falls, PA regarding historical development of NursingABC for prelicensure nursing programs in Western Pennsylvania. Professional videotaping January 10, 2019.
Piotrowski, M. (2018) Chatham University, MSN International Cohort, Invited Guest Lecturer. "Leadership and Motivation". Pittsburgh, PA  June, 2018.
Piotrowski, M. (2018). "Resilience and Autonomous Learning in Mid-level Healthcare:  Implications for Doctoral Nursing Education".  Poster presentation, American Association of Colleges of Nursing (AACN), Naples, FL  January, 2018. 
Piotrowski, M. "Self-Directedness and Resilience in Mid-level Healthcare Leaders." Podium presentation, 31st International Self-Directed Learning Symposium (Cocoa Beach, FL), February, 2017.