Alumna Profile: Traci Karan, MSN '21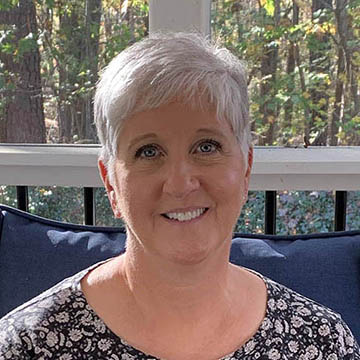 Traci Karan
Degree
Master of Science in Nursing (MSN)
"Chatham supports its students in every way possible. I feel very encouraged, and I don't feel like if I have a question that I can't ask it. I know the professors are very prompt in getting information to you when you need it. It's been a great career booster for me. It'll make me more marketable."—Traci Karan, MSN '21
"I was a stay-at-home mom for 15 years and the kids no longer needed me around, so I decided to pursue something medical," says Traci Karan, MSN '21. "My daughter had asthma as a young girl and that interested me, so a neighbor got me hooked into a program with UPMC to become a surgical technologist. About two years into being a surgical tech, I went to Shadyside School of Nursing, to start my nursing career. I did the evening/weekend/part-time program, so I worked four ten-hour days in the operating room, went to school at night, and did my clinicals on the weekend."
Once she got her RN degree, Karan started in the emergency department of Children's Hospital of Pittsburgh of UPMC. She worked there for eight years, during which time she earned her BSN from Chatham, then moved to the post-anesthesia care unit for a better schedule, and then accepted a leadership position in the operating room.  
"I work directly under our unit director and I have 17 direct reports. I'm in an administrative position where I work on payroll, scheduling, staffing, pretty much a jack of all trades. If there's a call off I can fill in in a room, I scrub, I circulate. I'll do pretty much anything that comes along. Every day is a new challenge," she says. 
"My position is a master's-preferred position," she continues, "so I decided to go ahead and start my master's degree. I liked Chatham for my BSN, so I figured I'd start working my way through my MSN there, too."
"And it's been great," she adds. "All the professors have been very helpful, and I'm learning a lot that's helping me tremendously in my position. It's giving me new ways to look and think about things, opening my eyes a lot."
Karan says that the MSN program has especially transformed her idea of what it is to be a leader. "Everybody thinks a leader or manager should just fix everything, but they can't because you have to follow all the levels of leadership above you. But I think if you're honest and tell them what you can and can't do—that was the thing that was most interesting to me.
Also, how to interact with people and to be aware of your own unconscious bias, and to try to read them and stay positive."
Karan says that she would highly recommend Chatham, "in fact, I already have," she says. "When I worked in the post-anesthesia care unit, there were two nurses there who were contemplating getting their MSN degrees. I'm older than them, and I told them 'If I can do it, you guys can do it,' and they both did!" 
"Chatham supports its students in every way possible," she continues. "I feel very encouraged, and I don't feel like if I have a question that I can't ask it. I know the professors are very prompt in getting information to you when you need it. It's been a great career booster for me. It'll make me more marketable."
In fact, Karan has already accepted a role similar to hers, a leadership role in North Carolina. "I got a position with the UNC Medical Center in their pediatric operating room in Chapel Hill," she says. "When I interviewed for the position, it was actually a lower position and after speaking to me, the interviewer talked to the unit director, and they changed the hiring status to make it a status that would suit me based on my experience right now. So that was kind of a cool thing."