Alumna Profile: Brittany Chism, MHI '20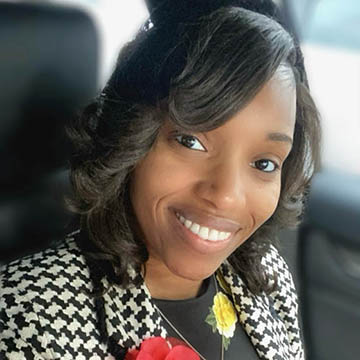 Brittany Chism
Major
Master of Science in Healthcare Informatics (MHI)
"I wanted to enhance my knowledge of the healthcare field, and I wanted to learn more about how we can incorporate technology into healthcare because I love technology. Combining both of them was right up my alley."—Brittany Chism
Brittany Chism, MHI '20, graduated from Delta State University in Cleveland, Mississippi with a major in biology in 2014. During her last semester, she undertook an internship at Baxter Health Care. It was a good fit, and she stayed on after graduation, working in the lab, first as a Microbiologist I, and then promoted to Microbiologist II.
"During my second year of being a Microbiologist II," she says, "I decided to obtain my Master's." Chism knew that she wanted to stay in healthcare, but realized what a broad field it is. "I was going to do healthcare administration, but I knew that wasn't really something I wanted to do," she says. "So when I came across Chatham's healthcare informatics program and read the description on the website, I became very interested. I wanted to get some more clarity, reached out to [Healthcare Informatics Program Director] Dr. [Debra] Wolf."  
"I wanted to enhance my knowledge of the healthcare field, and I wanted to learn more about how we can incorporate technology into healthcare because I love technology. Combining both of them was right up my alley."
"Man," she laughs. "I'm going to be completely honest with you. It [the program] was very challenging, but I gained so much knowledge. I remember there were a couple of times I wanted to just say forget it! But I'm a determined person and I don't like to give up easily, and even though it was hard, I was able to manage. The staff at Chatham are amazing. When I needed help with anything, from assignments to trying to figure out how to work the online learning system, having their extra help was excellent."
"Even though I had my healthcare background, when I first got into the program I was like 'What did I get myself into' as I started reading the material, but as I kept going on and on, and taking my time, I realized that it really wasn't that bad," says Chism. "The beginning classes are really going to help you for the future classes. From the beginning to the end, you see how you need everything you learn in every class. It comes all together at the end."
Chism's "end"—her capstone project—involved her lab's post-sterilization testing. "After we sterilize our products," she explains, "we use a system for additional testing to make sure there are no toxins. My capstone project was validating a new software system for doing that testing."
"At Baxter," she says, "we use a lot of data. That's all we collect. With the healthcare informatics being all about data, it has helped me to be able to know how to read and understand data better than I did before."
Chism also credits her MS degree for an opportunity that, she says, fell into her lap. "It's how I got my adjunct instructor job!" she says, noting that a lead faculty member at Columbia Southern University reached out to her about teaching science classes. "Even though they were mainly looking at my biology background, I also had to have a Masters degree in healthcare in order to be an instructor," she says. "I told them that I had no experience, but they were okay with that because they have faculty there to help me." It's a far cry from the lab, but Chism is looking forward to the experience. "This could be a good career path too," she notes.
Chism sees the degree as expanding her opportunities in the future. "I'd really like to use my MS degree more in the future–working as an informaticist, or a data analyst, or even being a teacher."