Robert Lettan, Ph.D.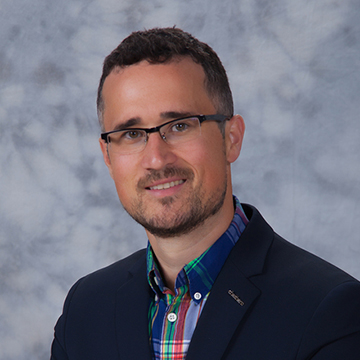 Chair of the Science Department and Associate Professor of Chemistry
Hometown:  Rochester, NY
Joined Chatham:  2009
ACADEMIC AREAS OF INTEREST
Synthetic organic chemistry, specifically in the areas of alkaloid synthesis and chiral memory methodology development.
PERSONAL AREAS OF INTEREST
I am so fortunate to have an incredible wife, Janna, a rambunctious son, Teddy, and a spirited daughter, Beatrice. In addition to spending time with them, I enjoy mountain biking, skiing, hiking, cooking, and home renovation. 
EDUCATION
 AWARDS
Jane Berger Advising Award, Chatham University 2013-2014
Cottrell College Science Award (Research Corporation), 2011-2013
Spectroscopy Society of Pittsburgh College Equipment Grant, Chatham University, 2010
PUBLICATIONS
De Pauw, K.; Roelands, B.; Van Cutsem, J.; Decroix, L.; Valente, A.; Kim, T.; Lettan II, R. B.; Carrillo, A. E.; Meeusen, R. "Do Glucose and Caffeine Nasal Sprays Influence Exercise and/or Cognitive Performance?" Int. J. Sports Physiol. Perform. 2017, in press.
Algrain, H. A.; Thomas, R. M.; Carrillo, A. E.; Ryan, E. J.; Kim, C.-H.; Lettan, R. B., II; Ryan, E. J. "The Effects of a Polymorphism in the Cytochrome P450 CYP1A2 Gene on Performance Enhancement with Caffeine in Recreational Cyclists" J. Caff. Res., 2016, 6, 34-39.
Rebbaa, A.; Lettan II, R. B. Inhibition of WNT, TGF Beta and HIPPO Signaling Pathways to Treat Cancer, Organ Fibrosis and Metabolic Disorders, U.S. Patent WO2015031109, March 5, 2015.
Basu, D.; Lettan, R.; Damoderan, K.; Strellec, S.; Reyes-Mugica, M.; Rebbaa, A. "Identification, Mechanism of Action and Anti-Tumor Activity of a Small Molecule Inhibitor of Hippo, TGF Beta, and WNT Signaling Pathways" Mol. Cancer Ther. 2014, 13, 1457-1467.
Lettan, R. B., II; Galliford, C. V.; Woodward, C. C.; Scheidt, K. A. "Amide Enolate Additions to Acylsilanes: In Situ Generation of Unusual and Stereoselective Homoenolate Equivalents." J. Am. Chem. Soc. 2009, 131, 8805-8814.
Lettan, R. B., II; Woodward, C. C.; Scheidt, K. A. "Stereoselective Synthesis of Highly Substituted gamma-Lactams From Acylsilanes." Angew. Chem. Int. Ed. 2008, 47, 2294-2297.
Dieringer, J. A.; Lettan, R. B., II; Scheidt, K. A.; Van Duyne, R. P. "A Frequency Domain Existence Proof of Single Molecule Surface-Enhanced Raman Spectroscopy." J. Am. Chem. Soc. 2007, 51, 16249-16256.
Lettan, R. B., II; Milgram, B. C.; Clark, C. T.; Scheidt, K. A. "Synthesis of Acylsilanes from Morpholine Amides. Synthesis of 1-(Dimethyl(phenyl)silyl)propan-1-one." Org. Syn. 2007, 84, 22-31.
Voges, A. B.; Stokes, G. Y.; Gibbs-Davis, J.; Lettan, R. B., II; Bertin, P. A.; Pike, R. C.; Nguyen, S. T.; Scheidt, K. A.; Geiger, F. M. "Insights into heterogeneous atmospheric oxidation chemistry: Development of a tailor-made synthetic model for studying tropospheric surface chemistry." J. Phys. Chem. C 2007, 111, 1567-1578.
Lettan, R. B., II; Reynolds, T. E.; Galliford, C. V.; Scheidt, K. A. "Multicomponent Reaction of Acylsilanes, Enolates, and Alkyl Halides: Stereoselective Synthesis of Tertiary-ß-hydroxy Amides." J. Am. Chem. Soc. 2006, 128, 15566-15567.
Lettan, R. B., II; Scheidt, K. A. "Triethoxysilane (Update)." The Electronic Encyclopedia of Reagents for Organic Synthesis 2006.
Lettan, R. B., II; Scheidt, K. A. "Lewis Base-Catalyzed Additions of Alkynes Using Triethoxysilylalkynes." Org. Lett. 2005, 7, 3227-3230.