Shimul Chowdhury, MFA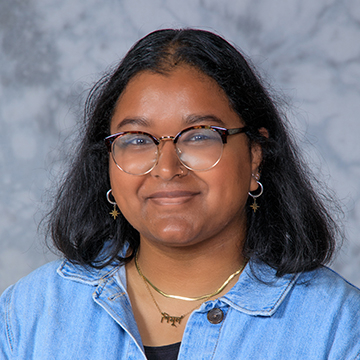 Assistant Professor of Immersive Media
Joined Chatham: August 2023
BIOGRAPHY
Shimul Chowdhury (she/they) is a multimedia artist, maker, and creative technologist. In her practice, she is most interested in creating participatory works or experiences that initiate and invite dialogue with the audience. Shimul centers her own lived experiences as a Muslim US American in her work, aiming to create and build community and solidarity with participants and viewers. She uses her background in new and digital media as well as her lifelong passion for fiber and textile craft to create such works. Shimul is also Art Director for MIPSTERZ, a Muslim arts and culture collective currently investigating Muslim Futurism, and a member of the Y9 Future Memory track of the New Museum's NEWINC incubator.
ACADEMIC AREAS OF INTEREST
Muslim Futurism, Afrofuturism, Muslim and/or South Asian diaspora and culture, socially-engaged art, participatory art, relational aesthetics, documentary games, interactive fiction, community, collective memory, belonging.
PERSONAL AREAS OF INTEREST
Speculative fiction, black cats, katamari damacy, sewing.
EDUCATION
MFA, University of California Santa Cruz (Santa Cruz, California), 2019

BFA, University of Florida (Gainesville, Florida), 2016
ORGANIZATIONS