Alumna Profile: Dani Hunter, MSCP '17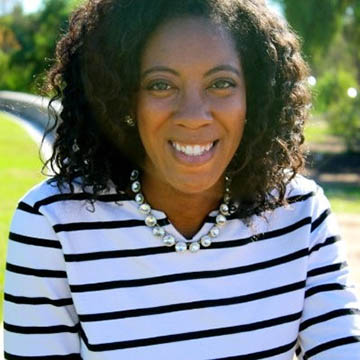 Daniesha Hunter
Degree
Master of Science in Counseling Psychology (MSCP)
"Just the way that I think about interacting with other people has shifted from being in this program."—Dani Hunter
Dani Hunter, MSCP '17, first became interested in counseling when she was teaching English as a Second Language in South Korea.
"Teaching kids English when they're kindergarteners or pre-kindergarteners is a lot of stress for them, because they've barely developed their native tongue," Dani says. "And then coming in and having to learn a second language, in a high-stress testing culture… [the question became] how do we support the kids in learning without making it a stressful situation."
Dani focused on creating an inclusive classroom and engaging learning environment, but was soon drawn to a more holistic approach to students' education. "I was really interested in how mindfulness and resilience and the growth mindset could enhance learning. I really felt like I needed those counseling skills to be a better teacher."
Upon returning to the United States, Dani quickly enrolled at Chatham University. "I thought that being a therapist would be one way that I could better support students in the U.S. while they're learning."
The program's focus on practical, real-world experience was a big draw for Dani. "I came to Chatham because I felt like I would get a mix of the counseling experience, but also some exposure to the research side," she says. "I decided I needed to do the MSCP because it was about the clinical skills. I really wanted to do the practicum and the internship." 
While at Chatham, Dani took advantage of networking, connecting with an MSCP alum who was working in a school-based therapy setting. Although it wasn't a usual spot for students to intern, faculty and alumni worked with Dani to make it happen.
"So many people were rooting for me! When it came to the practicum and the internship, I got a lot of guidance on how I could get what I needed from each of those experiences."
Chatham's faculty, Dani says, were invested in preparing their students for the future. When she graduated in 2017 with a Master of Science in Counseling Psychology, Dani had two job offers—a lab position with UPMC, and a full-time offer from her internship site. She accepted the role at UPMC, an opportunity that allowed Dani to put her new clinical interviewing skills to the test.
After a few years in the field, Dani enrolled at the University of Pittsburgh as a PhD student in Developmental Psychology. She also works as a Project Coordinator for a research project analyzing how youth perceptions of family dynamics and finances impact their learning abilities and academic success.
"I didn't think the MSCP program was going to be my last stop," she says. "So when I went into the program, I really cared about exploring opportunities."
She wound up exploring perspectives, too, she says. "Just the way that I think about interacting with other people has shifted from being in [the MSCP] program."