Sourcing Renewable Energy for Eden Hall Campus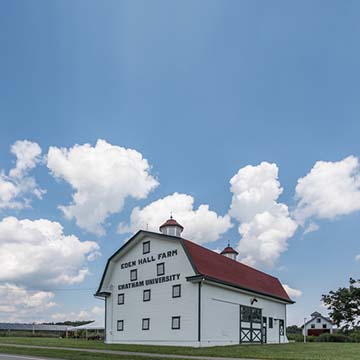 Eden Hall's Microgrid
"It's a really good learning opportunity for not only Chatham but the local community and prospective students. We have a lot of different classes that can use the data the microgrid is producing as a real life example. Plus, a local farmer may find a microgrid to be a more feasible solution to producing energy for their land. It's a great platform for people to learn."—Nelson DiBiase, MSUS + MBA '21
This story was originally published on Pulse@ChathamU, Chatham's hub for the latest news, stories and community profiles.  
Nelson DiBiase, MSUS + MBA '21 was debating the age-old choice: go to grad school or look for a job, when former Dean of Eden Hall Campus Dr. Peter Walker offered him the opportunity to be project lead on the installation of a microgrid at Eden Hall, and a chance to help expand EHC's renewable energy possibilities.
Microgrids are localized energy grids that can disconnect from the main power grid and utilize locally generated energy to power homes, businesses, and industry.
After some consideration, Nelson and Peter elected to work with Windstax, a local vertical wind turbine manufacturer: "They had a perfect system for us that included solar panels and wind. They also provided a battery unit. It's a great partnership that we formed," says Nelson. The team opted to install the microgrid in Elsama Field, where it could generate power to feed the outdoor classroom and support the farm.
Nelson oversaw Windstax's on-site installation of a 20-foot wind turbine and solar panels that provide solar and wind energy to the microgrid. He also secured the necessary permits from the township and a shed to house the battery unit and the solar panels. The EHC microgrid will now provide power to the outdoor classroom and a future hoop house, which will collect rainwater to irrigate the fields and the greenhouse crops. Additionally, the battery unit is mobile: "If a tractor is down, we can wheel [the battery unit] out to the field to jump start it."
Presently the microgrid is only tied into the Windstax turbine and solar panels, but Nelson envisions that it will become a testing ground for alternative renewable energy sources: "Let's say people want to collect data around how well concentrated solar energy works in Pennsylvania. That's a method where you have mirrors pointing towards one object of superheat. They can use the field area to test this. It could also be used for thesis or capstone projects."
It's also his hope that the microgrid will increase the opportunity for Master of Food Studies and Master of Sustainability students to collaborate on projects: "A lot of our classes are kept separate, but with the microgrid we can work towards something together while contributing to our respective fields."
Throughout this year, the EHC team will collect data to see whether the wind turbine or solar panels produce more energy for the grid. Nelson, who plans to pursue work in the energy sector post-graduation, is excited to see what opportunities for learning the microgrid presents:
It's a really good learning opportunity for not only Chatham but the local community and prospective students. We have a lot of different classes that can use the data the microgrid is producing as a real life example. Plus, a local farmer may find a microgrid to be a more feasible solution to producing energy for their land. It's a great platform for people to learn.
The academic programs in the Falk School are dedicated to producing professional sustainability leaders. Learn more.